Present Tense. Wish You Were Here II
Present Tense extends the intentions of last year's Wish You Were Here postcard series with a suite of 10 new paintings depicting Christchurch as it is right now in 2014.
5 of these 10 Christchurch 'portraits' will comprise a billboard installation staged in Auckland in May 2014.
You are welcome to add your top 5 nominations by emailing me: msjuliaholden@gmail.com
To enable me to achieve the aims of this ambitious project I am seeking $5,000 ($1,000 printing and installation costs for each billboard) through the Arts Foundation's crowdsourcing site, Boosted. The campaign must reach the full $5,000 target to proceed and finishes 19 April.
For more information visit Boosted here: http://www.boosted.org.nz/projects/wish-you-were-here.
(Click an image to enlarge. All paintings oil on board, 60 cm x 100 cm)

Red Zone Home 1                                                                          Red Zone Home 2

High St Container Stack                                                              High St

The National, High St                                                                  Lichfield Street

Cnr Cashel and Manchester Streets                                        Blue Building and Capitol Theatre

Catholic Basilica                                                                           The Cathedral
Alongside, and complimentary to this series I also painted one of the 100 eggs for the Starship Foundation's hospital fundraiser, The Big Egg Hunt (Click Here to view all eggs). Titled A Shell of Her Former Self  my egg is currently on view at Christchurch City Council offices before it will feature at the black tie Grand Gala and Auction in Auckland on 16 April.
Jo enjoyed finding the eggs around Christchurch and sent me this video she took of the egg in situ at Cathedral Square before it was moved to the Council Building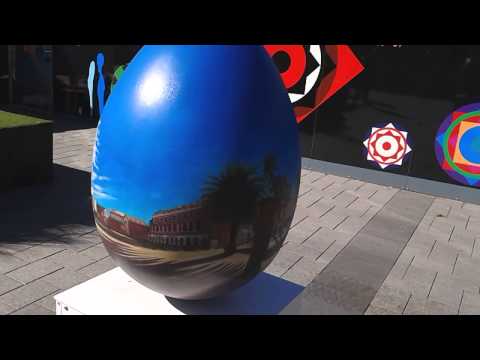 Jo also sent in these images taken on a very sunny Christchurch day. I painted the egg in Resene exterior house paints expressly so that it could be placed in an outdoor setting, and am pleased to have received Jo's photos as I didn't get the chance to get around and see the eggs myself!
Below are images of the egg taken at my temporary studio at Sumner